𑐠𑑂𑐰 𑐮𑐔𑑂𑐕𑐶𑐫𑐵 𑐣𑐐𑐸𑐩𑐵 𑐳𑑂𑐔𑐫𑐾𑐟 𑐠𑐣 𑐟𑐶𑐫𑐾 𑑋Click here to see the full calendar of this month.
Next Online Class Schedule
𑐠𑐣𑑃 𑐮𑐶𑐥𑐵 𑐖𑐸𑐂𑐐𑐸 𑐀𑐣𑐮𑐵𑐂𑐣 𑐎𑑂𑐮𑐵𑐳𑐫𑐵 𑐃𑐧𑑂𑐫𑑅𑐢𑐮
・Nepal-lipi (Basic Level) /   
 𑐣𑐾𑐥𑐵𑐮𑐮𑐶𑐥𑐶 (𑐩𑐹 𑐟𑐐𑐷𑑃)
・Nepalbhasa (Basic Level)/
 𑐣𑐾𑐥𑐵𑐮𑐨𑐵𑐳 (𑐩𑐹 𑐟𑐐𑐷𑑃)
・Nepal calendar orientation/
𑐣𑐾𑐥𑐵𑐮𑐳𑑄𑐰𑐟 𑐣𑐐𑐸𑐩𑐵 𑐕𑐾𑐮𑐾𑐐𑐸 𑐟𑐬𑐶𑐎𑐵
・Nepalbhasa Proficiency    
 Test (Basic Level) /
 𑐣𑐾𑐥𑐵𑐮𑐨𑐵𑐳 𑐥𑑂𑐬𑐰𑐷𑐞𑐟𑐵 𑐥𑐬𑐷𑐎𑑂𑐲𑐵
 (𑐩𑐹 𑐟𑐐𑐷𑑃)
New dates to be scheduled soon. Interested individuals, groups and organization can register in advance:
𑐠𑑂𑐰 𑐎𑑂𑐮𑐵𑐳 𑐣𑑂𑐴𑑂𑐫𑐵𑐂𑐐𑐸 𑐃𑐧𑑂𑐫𑑅 𑐫𑐵𑐎𑐣𑑃 𑐖𑐵𑐣𑐎𑐵𑐬𑐷 𑐖𑐸𑐂 𑑋 𑐠𑐸𑐖𑑀𑐐𑐸 𑐎𑑂𑐮𑐵𑐳𑐫𑑂 𑐧𑑂𑐰𑐟𑐶 𑐎𑐵𑐫𑑂 𑐩𑑃𑐡𑐸𑐥𑐶𑑃 𑐧𑑂𑐫𑐎𑑂𑐟𑐶, 𑐥𑐸𑐔𑑅 𑐏𑐮𑑅𑐫𑐵 𑐥𑐵𑐳𑐵𑐥𑐶𑐳𑑃 𑐣𑑂𑐴𑐵𑐥𑐵𑑃𑐴𑐾 𑐬𑐾𑐖𑐶𑐳𑑂𑐚𑐬 𑐫𑐵𑐣𑐵 𑐟𑐫𑐾 𑐖𑑂𑐫𑐹 𑑋
– [email protected]
Install Nepal Lipi Font in Google Chrome on Windows or any others browsers
What's New? Press here or scroll down to view the latest upload on this portal.
Jojalapa (Hello)!
Thank you for visiting Nepal Lipi Online (NLO), the World's first online portal in Nepal-lipi since 2009! The counter herein shows today's date in Nepal calendar 1142 NS. You can view this portal in Nepalbhasa, English and several other languages, too. You may select the language on the menu above.
What we do
The NLO is dedicated to revitalize Nepal's original language Nepalbhasa, its original script Nepal-lipi and its original almanac Nepal Calendar. These three indispensable heritages of Nepal's original culture are now facing endangerment. Unless they are revitalized, they will die soon. As a small effort towards their revitalization, we have launched this portal for sharing information in Nepalbhasa and English, teaching Nepalbhasa in Nepal-lipi, and guiding how to use the Nepal calendar since 2009. For more information, you may check our menu above and links below:
・An Outline of NLO (More…)
・Vision and Mission of NLO (More…)
・Installing Nepal Lipi on PCs, Tablet, Ipad and Mobile phone. (More…)
・Nepal-lipi keyboard app (More…)
・How to type Nepal-lipi (More)
・Nepalbhasa lesson (More…)
・Nepalbhasa numbers (More…)
・Nepal-lipi lesson (More…)

𑐖𑑂𑐰𑐖𑐮𑐥𑐵!
𑐣𑐾𑐥𑐵𑐮 𑐳𑑄𑐰𑐟 𑑑𑑑𑑓𑑐 𑐣𑐶𑐳𑐾𑑃 𑐥𑐶𑐴𑐵𑑃 𑐰𑐫𑐵 𑐔𑑂𑐰𑑄𑐐𑐸 𑐴𑐮𑐶𑐩𑐫𑑂 𑐡𑐎𑐮𑐫𑑂 𑐣𑑂𑐴𑐵𑐥𑐵𑑃𑐐𑐸 𑐣𑐾𑐥𑐵𑐮 𑐮𑐶𑐥𑐶 𑐀𑐣𑐮𑐵𑐂𑐣 (NLO) 𑐰𑐾𑐧𑐳𑐵𑐂𑐚𑐫𑑂 𑐡𑐸𑐳𑑂𑐰𑑅 𑐗𑐵𑐂 𑐡𑐶𑐮, 𑐫𑐎𑑂𑐰 𑐳𑐸𑐨𑐵𑐫𑑂𑑋 𑐠𑐣 𑐡𑐹𑐐𑐸 𑐎𑐵𑐄𑐣𑑂𑐚𑐬𑑃 𑐣𑐾𑐥𑐵𑐮𑐳𑑄𑐰𑐟 𑐣𑑂𑐴𑐶𑐮𑑂𑐫𑐵 𑐎𑐾𑐣𑐵 𑐔𑑂𑐰𑑄𑐐𑐸 𑐡𑐸𑑋 𑐠𑑂𑐰 𑐰𑐾𑐧𑐳𑐵𑐂𑐚𑑂 𑐣𑐾𑐥𑐵𑐮𑐨𑐵𑐳, 𑐂𑑄𑐐𑑂𑐮𑐶𑐳 𑐰 𑐩𑐾𑐩𑐾𑐐𑐸 𑐨𑐵𑐳𑑃𑐣𑑃 𑐳𑑂𑐰𑐫𑑂 𑐖𑑂𑐫𑐹𑑋 𑐀𑐠𑐾 𑐳𑑂𑐰𑐫𑐾𑐟, 𑐔𑑂𑐰𑐫𑑂 𑐔𑑂𑐰𑑄𑐐𑐸 𑐩𑐾𑐣𑐸𑐂 𑐰𑐣𑐵 𑐨𑐵𑐳 𑐮𑑂𑐫𑐾𑐫𑐵 𑐡𑐶𑐳𑑃 / 𑐧𑐶𑐖𑑂𑐫𑐵𑐴𑐸𑑃𑑋
𑐗𑐷𑐐𑐸 𑐖𑑂𑐫𑐵𑐏𑑃
𑐠𑑂𑐰 NLO 𑐰𑐾𑐧𑐳𑐵𑐂𑐚𑑂, 𑐣𑐾𑐥𑐵𑐮𑐡𑐾𑐳𑐫𑐵 𑐩𑐹𑐮𑐨𑐵𑐳 – 𑐣𑐾𑐥𑐵𑐮𑐨𑐵𑐳, 𑐄𑐎𑐷𑐫𑐵 𑐩𑐹𑐮𑐮𑐶𑐥𑐶 – 𑐣𑐾𑐥𑐵𑐮𑐮𑐶𑐥𑐶 𑐰 𑐩𑐹𑐮 𑐣𑐐𑐸𑐩𑐵 (𑐎𑑂𑐫𑐵𑐮𑐾𑐣𑑂𑐜𑐬) – 𑐣𑐾𑐥𑐵𑐮𑐳𑑄𑐰𑐟 𑐫𑐵𑐟 𑐮𑑂𑐫𑑄𑐎𑐵 𑐟𑐫𑐾𑐟 𑐳𑐩𑐬𑑂𑐥𑐶𑐟 𑐫𑐵𑐣𑐵 𑐔𑑂𑐰𑐣𑐵𑑋 𑐣𑐾𑐥𑐵𑐮𑐡𑐾𑐳𑐫𑐵 𑐩𑐹𑐮 𑐟𑐖𑐶𑐮𑐖𑐶𑐂 𑐩𑐡𑐾𑐎 𑐩𑐐𑐵𑑅𑐐𑐸 𑐠𑑂𑐰 𑐳𑑂𑐰𑑄𑐐𑐸 𑐳𑐩𑑂𑐥𑐡𑐵 𑐮𑑀𑐥𑐵𑐣𑑂𑐩𑐸𑐏𑐫𑑂 𑐮𑐵𑐫𑑂 𑐢𑐸𑑄𑐎𑐮𑑋 𑐫𑐡𑐶 𑐠𑑂𑐰 𑐳𑐩𑑂𑐥𑐡𑐵𑐟 𑐥𑐸𑐣𑐬𑑂𑐖𑐷𑐰𑐶𑐟 𑐫𑐵𑐫𑑂 𑐩𑐦𑐸𑐟 𑐢𑐵𑑅𑐳𑐵 𑐫𑐵𑐎𑐣𑑃 𑐴𑐾 𑐳𑐶𑐣𑐵𑐰𑐣𑐷𑐐𑐸 𑐖𑐸𑐂𑑋 𑐠𑑂𑐰 𑐳𑐩𑑂𑐥𑐡𑐵𑐟𑐾𑐐𑐸 𑐥𑐸𑐣𑐬𑐸𑐟𑑂𑐠𑐵𑐣 𑐫𑐵𑐫𑐾𑐐𑐸 𑐕𑐐𑐸 𑐧𑑅𑐔𑐵𑐢𑑄𑐐𑐸 𑐎𑐸𑐟𑑅𑐎𑐠𑑃, 𑐣𑐾𑐥𑐵𑐮𑐳𑑄𑐰𑐟 𑑑𑑑𑑓𑑐 𑐣𑐶𑐳𑐾𑑃 𑐗𑐷𑐳𑑃 𑐣𑐾𑐥𑐵𑐮𑐨𑐵𑐳 𑐰 𑐂𑑄𑐐𑑂𑐮𑐶𑐳𑐨𑐵𑐳𑑃 𑐳𑐸𑐔𑑃 𑐂𑐣𑐵𑑃, 𑐣𑐾𑐥𑐵𑐮𑐨𑐵𑐳 𑐰 𑐣𑐾𑐥𑐵𑐮𑐮𑐶𑐥𑐶 𑐳𑑂𑐫𑐾𑐣𑐵 𑐰𑐫𑐵 𑐔𑑂𑐰𑑃𑐳𑐾, 𑐣𑐾𑐥𑐵𑐮𑐳𑑄𑐰𑐟 𑐣𑐐𑐸𑐩𑐵 𑐕𑐾𑐮𑐾𑐐𑐸 𑐟𑐬𑐶𑐎𑐵𑐣𑑃 𑐳𑑂𑐫𑐾𑐣𑐵 𑐰𑐿 𑐔𑑂𑐰𑐣𑐵𑑋 𑐠𑐸𑐖𑑀𑐐𑐸 𑐗𑐷𑐐𑐸 𑐖𑑂𑐫𑐵𑐏𑑃 𑐥𑐸𑐰𑑄𑐎 𑐳𑐷𑐎𑐾𑐟 𑐠𑐣 𑐔𑑂𑐰𑐳𑑃 𑐡𑐹𑐐𑐸 𑐢𑐮𑐏 (𑐩𑐾𑐣𑐹) 𑐰 𑐎𑑂𑐰𑐳 𑐡𑐹𑐐𑐸 𑐴𑑂𑐰𑐣𑐵 (𑐮𑐶𑐣𑑂𑐎𑑂) 𑐔𑐵𑐫𑐾𑐎𑐵 𑐳𑑂𑐰𑐫𑐵 𑐡𑐶𑐳𑑃 / 𑐧𑐶𑐖𑑂𑐫𑐵𑐴𑐸𑑃𑑋
・NLO𑐫𑐵 𑐕𑐟𑑂𑐰𑐵𑑅 𑐩𑑂𑐴𑐳𑐷𑐎𑐵 (Read here)
・NLO 𑐫𑐵 𑐏𑐣𑐵𑐏𑑃 (𑐨𑐶𑐖𑐣्) 𑐰 𑐨𑐵𑐮𑐵𑐖𑑂𑐫𑐵 (𑐩𑐶𑐱𑐣्) (Read here)
・𑐎𑐩𑑂𑐥𑑂𑐫𑐹𑐚𑐬𑐫𑑂 𑐰 𑐩𑑀𑐧𑐵𑐂𑐫𑑂 𑐣𑐾𑐥𑐵𑐮𑐮𑐶𑐥𑐶 𑐣𑐷𑐳𑑂𑐰𑐣𑐾𑐐𑐸 𑐟𑐬𑐶𑐎𑐵 𑑋 (Read here)
Learning Nepal-lipi online
Important Notices (For Latest Posts, scroll below:) 𑐩𑐴𑐟𑑂𑐰𑑃 𑐖𑐵𑑅𑐐𑐸 𑐳𑐸𑐔𑑃 (𑐮𑐶𑐥𑐵𑑃𑐐𑐸 𑐳𑐸𑐔𑑃 𑐳𑑂𑐰𑐫𑐾𑐟 𑐎𑑂𑐰𑐫𑑂 𑐳𑑂𑐎𑑂𑐬𑑀𑐮 𑐫𑐵𑐣𑐵 𑐡𑐶𑐳𑑃)
Jobs at NLO: Help wanted for its online portal (𑐣𑐾𑐥𑐵𑐮𑐮𑐶𑐥𑐶 𑐀𑐣𑐮𑐵𑐂𑐣 𑐣𑐵𑐥 𑐖𑑂𑐫𑐵𑐫𑐵𑐣𑐵 𑐡𑐶𑐳𑑃) (Vacancy)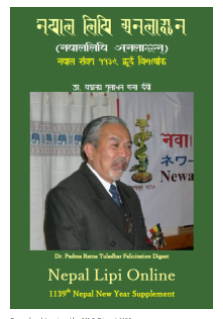 Earn working from home. The NLO is a voluntary project for sharing information and educating interested individuals in learning Nepalbhasa. If you can help us producing online and inline publications, educational materials including texts, videos, cartoon and animation in Nepalbhasa and English, please Contact us. You do not need to know Nepal-lipi if you know Indian Devangari lipi and English to type. However, knowledge of or interest in working on Nepal-lipi will be useful to join our online staff.
𑐕𑐾𑑃 𑐔𑑂𑐰𑐣𑐵 𑐎𑐩𑐵𑐫𑑂 𑐫𑐵𑐣𑐵 𑐡𑐶𑐳𑑃 𑑋 𑐣𑐾𑐥𑐵𑐮𑐮𑐶𑐥𑐶 𑐀𑐣𑐮𑐵𑐂𑐣𑑂 𑐣𑐾𑐥𑐵𑐮𑐨𑐵𑐳𑑃 𑐖𑐵𑐣𑐎𑐵𑐬𑐶 𑐂𑐣𑐾𑐐𑐸 𑐰 𑐣𑐾𑐥𑐵𑐮𑐨𑐵𑐳 𑐳𑐫𑐾𑐎𑐾 𑐫𑑅𑐥𑐶𑐣𑑂𑐟 𑐣𑐾𑐥𑐵𑐮𑐨𑐵𑐳 𑐳𑑂𑐫𑐾𑐣𑐾𑐐𑐸 𑐕𑐐𑐸 𑐳𑑂𑐰𑐾𑐔𑑂𑐕𑐵 𑐥𑑂𑐬𑑀𑐖𑐾𑐎𑑂𑐚 𑐏𑑅𑑋 𑐣𑐾𑐥𑐵𑐮𑐮𑐶𑐥𑐶 𑐀𑐣𑐮𑐵𑐂𑐣𑐫𑐵 𑐥𑑂𑐬𑐎𑐵𑐳𑐣𑐟 𑐣𑐵𑐥𑑃 𑐣𑐾𑐥𑐵𑐮𑐨𑐵𑐳 𑐳𑑂𑐫𑐾𑐣𑐾𑐟 𑐖𑑂𑐫𑐵𑐰𑐿𑐐𑐸 𑐳𑐦𑐹 𑑍 𑐰𑐶𑐜𑐶𑐫𑑀 𑑍 𑐎𑐵𑐚𑐸𑐣 𑐰 𑐁𑐣𑐶𑐩𑐾𑐱𑐣𑑂 𑐡𑐫𑐾𑐎𑐵 𑐐𑑂𑐰𑐵𑐴𑐵𑐮𑐷 𑐫𑐵𑐫𑑂 𑐦𑐸𑐳𑐵 𑐗𑐷𑐟 𑐳𑑂𑐰𑐵𑐥𑐸 𑐟𑐿 𑐡𑐶𑐳𑑃 𑑋 𑐴𑐶𑐣𑑂𑐡𑐸𑐳𑑂𑐟𑐵𑐣𑐫𑐵 𑐡𑐾𑐰𑐣𑐵𑐐𑐬 𑐮𑐶𑐥𑐶 𑐰 𑐂𑑄𑐐𑑂𑐮𑐶𑐳𑑃 𑐚𑐵𑐂𑐥𑑂 𑐫𑐵𑐫𑐾 𑐳𑑅𑐳𑐵 𑐣𑐾𑐥𑐵𑐮𑐮𑐶𑐥𑐶 𑐩𑐳𑑅𑐳𑐵𑑃 𑐕𑐹𑑃 𑐏𑑃 𑐩𑐡𑐸 𑑋 𑐀𑐫𑐣𑑃 𑐣𑐾𑐥𑐵𑐮𑐮𑐶𑐥𑐶𑐫𑐵 𑐖𑑂𑐘𑐵𑑃 𑐰 𑐂𑐔𑑂𑐕𑑂𑐫𑐵 𑐡𑐸𑐳𑐵 𑐗𑐷𑐐𑐸 𑐚𑐷𑐩𑑂 𑐣𑐵𑐥𑑃 𑐖𑑂𑐫𑐵 𑐫𑐵𑐫𑑂 𑐀𑑅𑐥𑐸𑐂 𑐦𑐸 𑑋
"Let's use Nepal Lipi" Initiative ( 𑐣𑐾𑐥𑐵𑐮𑐮𑐶𑐥𑐶 𑐕𑐾𑐮𑐾𑐣𑐸 𑐀𑐨𑐶𑐫𑐵𑐣𑑂) (Campaign)

Let's save Nepal-lipi by using it. Let's read and write Nepalbhasa in Nepal-lipi. Let's preserve it for our children of next generation. The Nepal-lipi Online portal invites to join initiative and play a role in saving Nepalbhasa with its script, the Nepal-lipi, which has been endangered. More
𑐣𑐾𑐥𑐵𑐮𑐮𑐶𑐥𑐶 𑐕𑐾𑐮𑐵 𑐣𑐾𑐥𑐵𑐮𑐮𑐶𑐥𑐶 𑐩𑑂𑐰𑐵𑐎𑐵 𑐟𑐫𑐾𑐣𑐸𑑋 𑐣𑐾𑐥𑐵𑐮𑐨𑐵𑐳 𑐣𑐾𑐥𑐵𑐮𑐮𑐶𑐥𑐶𑑃𑐴𑐾 𑐧𑑂𑐰𑐣𑐾 𑐔𑑂𑐰𑐫𑐾𑐣𑐸 𑑋𑐨𑐰𑐶𑐲𑑂𑐫𑐫𑐵 𑐗𑐷 𑐩𑐳𑑂𑐟𑐾𑐟 𑐣𑐾𑐥𑐵𑐮𑐨𑐵𑐳 𑐮𑑂𑐫𑑄𑐎𑐵 𑐟𑐫𑐾𑐣𑐸 𑐢𑐾𑐐𑐸 𑐣𑐵𑐬𑐵 𑐖𑑂𑐰𑐣𑐵 𑐣𑐾𑐥𑐵𑐮𑐮𑐶𑐥𑐶 𑐀𑐣𑐮𑐵𑐂𑐣𑑃 𑐣𑐾𑐥𑐵𑐮𑐮𑐶𑐥𑐶 𑐩𑑂𑐰𑐵𑐎𑐵𑐟𑐫𑐾𑐐𑐸 𑐮𑐵𑐐𑐷 𑐣𑑂𑐴𑑂𑐫𑐵𑐎𑐵 𑐔𑑂𑐰𑑄𑐐𑐸 𑐀𑐨𑐶𑐫𑐵𑐣𑐫𑑂 𑐕𑐶𑐳𑑃𑐣𑑃 𑐫𑑀𑐐𑐡𑐵𑐣 𑐧𑐶𑐫𑐵𑐡𑐦𑐸 𑑋 𑐥𑐸𑐰𑑄𑐎 …
Nepal Lipi Keyboard App (Info)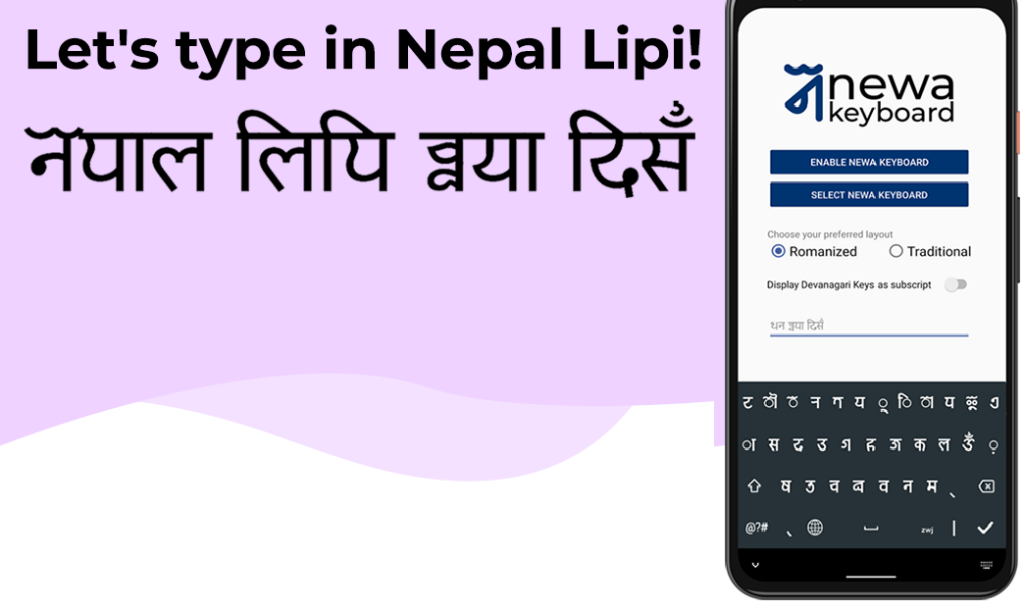 Newa Keyboard let's you type in Nepal Lipi in any app in your phone. It requires you no need of extra app with complicated install. No need to copy paste. You can start typing in Nepal Lipi and post and comment in social media in Nepal Lipi in Nepal Lipi without images…. More
Nepal-lipi Wbinar (News)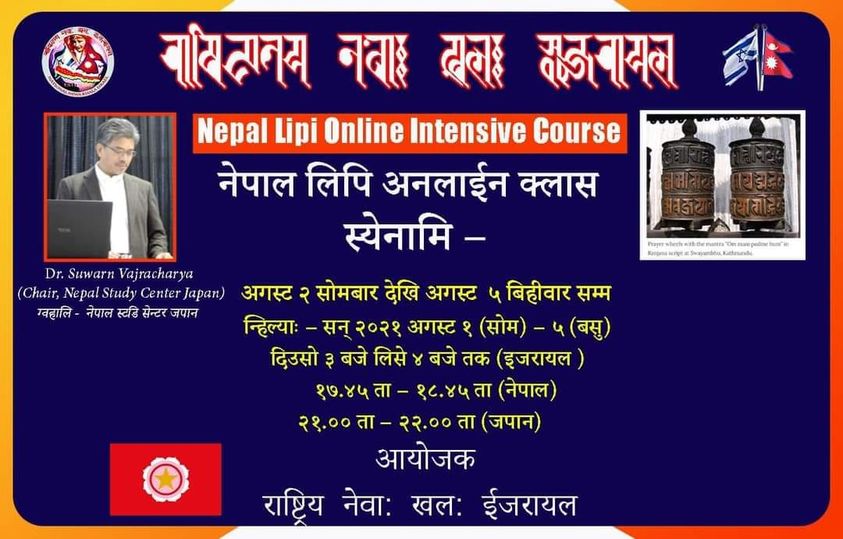 A webinar was held to train applicants to learn how to read and write Nepal Lipi online yesterday…𑐣𑐾𑐥𑐵𑐮𑐮𑐶𑐥𑐶 𑐎𑐩𑑂𑐥𑑂𑐫𑐹𑐚𑐬𑐾 𑐖𑐎 𑐩𑐏𑐸𑐳𑐾 𑐳𑐵𑐩𑐖𑐶𑐎 𑐳𑐘𑑂𑐖𑐵𑐮𑐫𑑂 𑐣𑑃 𑐐𑐠𑐾 𑐔𑑂𑐫𑐾𑐐𑐸𑐫𑐵 𑐧𑐵𑐬𑐾 𑐩𑑂𑐴𑐶𑐐𑑅 𑐖𑐹𑐩𑑂 𑐐𑑀𑐲𑑂𑐛𑐶 𑐖𑐹𑐐𑐸 𑐡𑐸𑑋More…
Latest News / Notices | 𑐮𑐶𑐥𑐵𑑄𑐐𑐸 𑐧𑐸𑐏𑑃 / 𑐳𑐸𑐔𑑃
For more, please visit Articles, Notices, News, Poems and stories